Check your claim in 2 minutes
Monarch Airlines flight delays and cancellations
Please note
: Monarch Airlines has filed for insolvency. As such compensation claims for flight disruptions unfortunately have a very small chance of being successful. Please follow this
link
for further information about the current situation.
As of October 2nd 2017 we have stopped taking new compensation claims against Monarch Airlines, as they have filed for bankruptcy. Customers with already existing claims should also be aware that sadly they are unlikely to receive compensation as Monarch are unable to make these payments.
If your flight has been delayed for more than 3 hours or cancelled without any prior notice and for reasons within the control of Monarch airlines. According to EC Regulation 261/2004, passengers who suffered a flight delay or cancellation while flying Monarch airline may be entitled to a compensation.
Your rights when delayed with Monarch Airlines
Up to €600 compensation under EU legislation
Flights claimable as far back as 6 years
Ticket price irrelevant
If the flight was delayed at least 3 hours, cancelled or overbooked
Tips and Tricks when delayed with Monarch Airlines
Ask Monarch directly - what caused the delay?
Collect evidence: receipts of expenses, photos, vouchers etc
Be sure to claim your benefits and services at the airport
Exchange contact details with other affected passengers
More in depth information regarding your airline rights and the EU law
When are flight delays eligible for compensation?
The amount of compensation is dictated by how long your flight is - the price of your ticket is irrelevant. Fundamentally if the flight arrived at its destination more than 3 hours late, and falls under the current EU Regulation , you'll have a claim. Your claims are valid up to 6 years retrospectively. We've gathered all the information regarding which compensation you're entitled to below: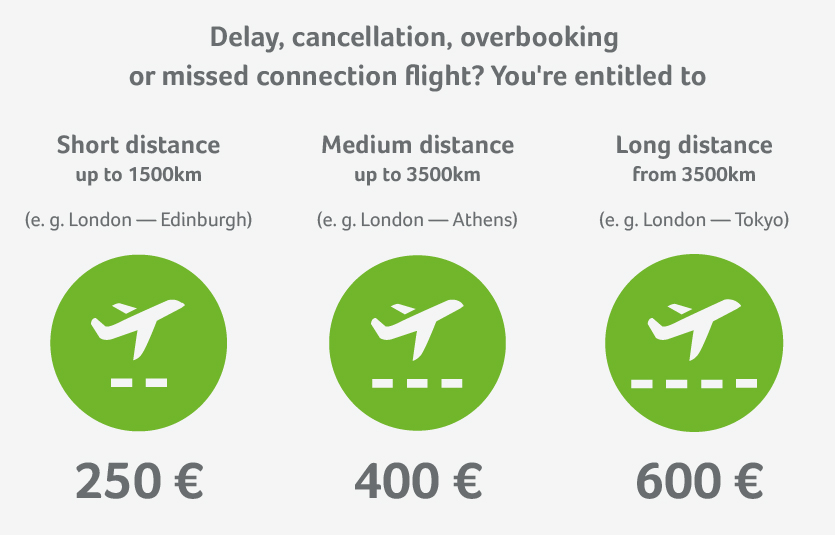 Monarch Airlines: Additional services at the airport
You have the right to some benefits when a flight is heavily delayed. These vary depending on the distance of the flight and how long you've been waiting. Here is an overview of what you're eligible for:
Short distance, less than 1500 km:

from 2 hours waiting time - free food and drinks, as well as 2 phone calls, emails or faxes

Medium distance, between 1500-3500 km:

from 3 hours waiting time - free food and drinks, as well as 2 phone calls, emails or faxes

Long-haul, from 3500 km:

from 4 hours waiting time - free food and drinks, as well as 2 phone calls, emails or faxes
Delayed more than 5 hours
If the delay stretches longer than five hours you have the right to cancel the flight entirely. The airline is obliged to either reimburse you for the costs or get you to the destination using a different transport method.
Departure rescheduled for the following day
If the delay stretches into the following day, the airline must cover the cost of a hotel stay and transportation to get to the hotel and back to the airport. Try to obtain confirmation of this in writing directly from the airline.
Important:
Don't listen to any excuses! Vouchers for hotels or food don't negate the airline's responsibility to compensate you.
The Flightright Guarantee
Thanks to our experience in this industry we enforce compensation with a very high success rate. That's why we are able to guarantee a completely free service in unsuccessful cases!
Check your claim in 2 minutes
Share this article with friends