Check your claim in 2 minutes
Jet2 flight delays and cancellations
Jet2 is the UK's 8th largest airline, with its base at Leeds Bradford Airport. The low-cost airline transports passengers to 58 different destinations. Delays and cancellations do occur with this airline but they rank as one of the most punctual operators in 2016.
Passengers on a Jet2 flight are entitled to compensation up to €600 for delayed flights or flights cancelled without adequate notice according to the EC Regulation 261/2004. To know how much you can claim, use our free flight compensation checker.
In cases of flight disruption with Jet2 we'll endeavour to uphold your rights. You can easily check your eligibility with our free online calculator. If your claim is valid then you can process it with us online.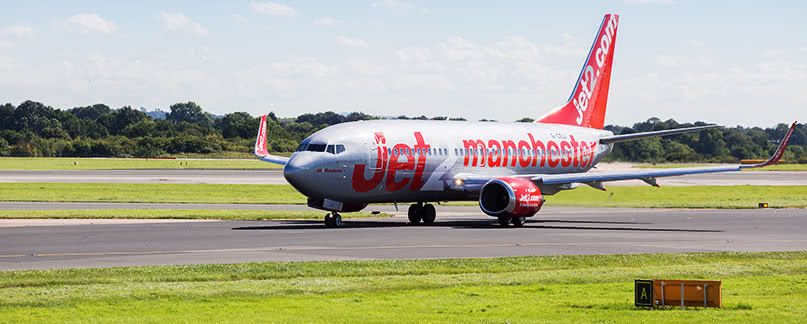 Your rights when delayed with Jet2
Claim as much as €600 compensation according to EU law
Regardless of the ticket price
When the flight suffered a delay of at least 3 hours, was cancelled or overbooked
Claim on flights up to 6 years old
Tips and Tricks when delayed with Jet2
Contact the airline to confirm the cause of the delay
Insist on your basic services and benefits at the airport
Collect proof: photos, vouchers, receipts of expenses etc
Exchange contact details with your fellow passengers
In which case is your flight delay eligible for compensation?
The total compensation depends on the length of your delay - the price you paid for your ticket is irrelevant. Essentially your flight has to arrive at its destination with a delay of at least 3 hours and fall under the current Eu regulation regarding flight disruptions. Claims are valid up to 6 years retrospectively. Below is a guideline about which level of compensation you'll be eligible for: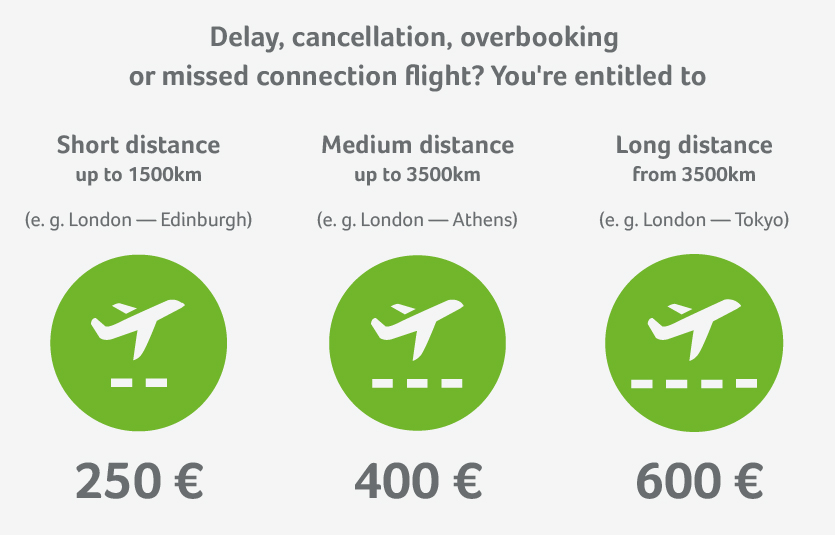 Jet2: Additional services at the airport
Badly delayed departure times mean you incur the rights to some benefits at the airport. These vary dependant on the length of the flight and the length of the delay. Here is an overview of what you're eligible for:
Short distance, less than 1500 km:

from 2 hours waiting time - complimentary beverages, food and 2 phone calls, emails or faxes

Medium distance, between 1500-3500 km:

from 3 hours waiting time - complimentary beverages, food and 2 phone calls, emails or faxes

Long-haul, more than 3500 km

: from 4 hours waiting time - complimentary beverages, food and 2 phone calls, emails or faxes
Delays of over 5 hours
You have the right to withdraw from your flight if delayed more than five hours. The airline is obliged to either reimburse you for the costs or provide alternative transportation.
Departure postponed until the following day
The airline must organise a hotel stay and cover the costs of the necessary transportation to and from the airport and the hotel. It is best to get confirmation of this in writing from the airline.
Important:
Don't listen to any excuses! Vouchers for food or hotels or drinks don't relieve the airline's responsibility to issue you your compensation.
The Flightright promise
Thanks to our experience and expertise, we enforce compensation with a very high success rate. This confidence allows us to offer a completely free service in unsuccessful cases!
Check your claim in 2 minutes
Share this article with friends