Check your claim in 2 minutes
Thomson Airways flight delays and cancellations
Thomson Airways (now TUI) is the world's largest charter airline, flying to 96 destinations globally. Thomson fares well in terms of punctuality, with the chance of outright cancellation lower than most of its competitors. It is still, however, like all airlines, subjected to some long delays.
According to EU Regulation 261/2004, passengers have the right to cliam compensation from Tui (formerly Thomson Airways) for denied boarding due to overbooked flights and for flight delayed for 3 hours or cancelled without any prior notice. All passengers are entitled to up to 600 Euros in compensation for the inconvinence.
We will strive to enforce your rights and make things fair between you and Thomson Airways. With our fast and effective online calculator you can check if you're entitled to compensation free of charge and submit your claim online.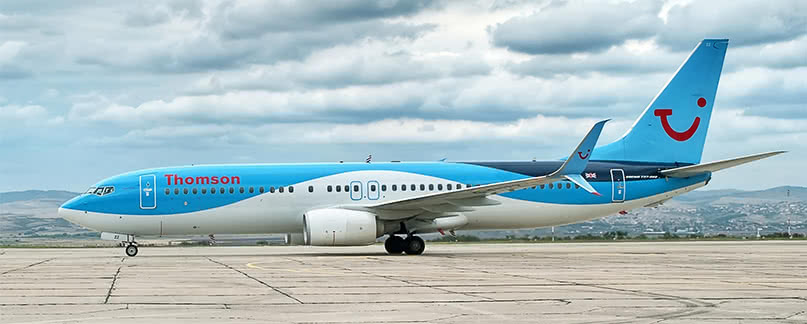 Your rights when delayed with Thomson Airways
EU law states that you can claim up to €600
When the flight was delayed at least 3 hours, cancelled or overbooked
Compensation is not determined by the price of the ticket
Flights up to 6 years old
Tips and Tricks when delayed with Thomson Airways
Establish the cause of the delay with the airline
Collect data: vouchers, receipts of expenses, photos etc
Make sure you receive your basic benefits and services at the airport
Exchange contact information with fellow passengers
More in depth information regarding the the eu-regulation and your passenger rights.
In which cases are flight delays eligible for compensation?
The total amount of compensation you can claim for depends on the distance of the delayed flight - the amount you paid for your ticket is not a factor. Fundamentally, if your flight arrived 3 hours later than scheduled, and the criteria of the EU Regulation have been met, you'll be eligible. Claims are valid retrospectively for 6 years. Here is some more information on which compensation you'll be entitled to: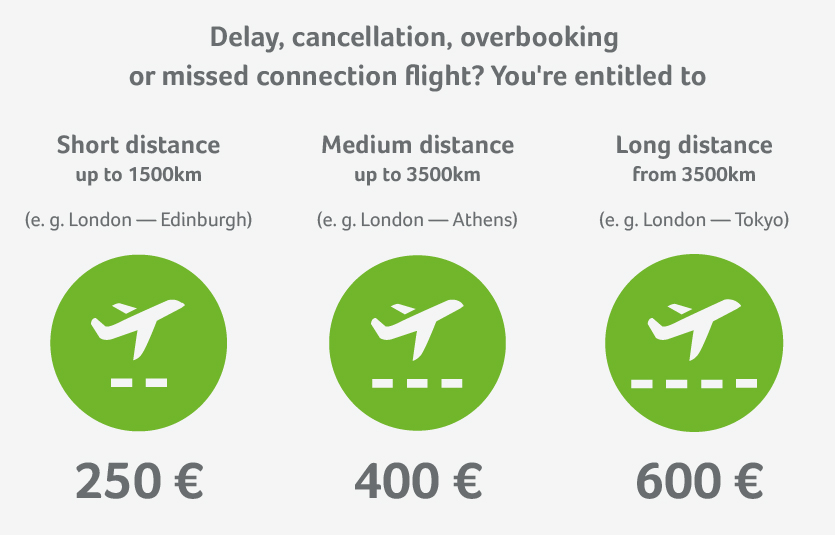 Thomson Airways: Additional services at the airport
In the case of extended delay, you become entitled to some benefits and services. These become available depending on the distance of your flight and the length of your delay. Below is an overview of what becomes available:
Short distance, below 1500 km:

over 2 hours waiting time, free food, drinks and 2 telephone calls, emails or faxes

Medium distance, between 1500-3500 km:

over 3 hours waiting time, free food, drinks and 2 telephone calls, emails or faxes

Long-haul, from 3500 km:

over 4 hours waiting time, free food, drinks and 2 telephone calls, emails or faxes
More than 5 hours waiting time
A delay of over 5 hours means you have the right to cancel your flight. The airline is obliged to either reimburse you or offer an alternative mode of transportation.
Departure pushed back until the following day
When your flight is delayed until the following day you become eligible for a stay in a hotel including transport back and forth from the airport and the hotel. Get in contact with the airline directly and request written commitment for your hotel room and transfers.
Important:
Don't have their excuses! Vouchers for food, hotels or drinks don't nullify the airline's responsibility to pay the compensation you're due.
The Flightright Promise
Thanks to our expertise, we are able to enforce compensation with very high success rates. That's why we are able to promise a totally free service if your case is unsuccessful!
Check your claim in 2 minutes
Share this article with friends