Flight cancellation compensation
If you are unlucky enough to find yourself in a situation where an airline has abruptly cancelled your flight, you do at least have the right to compensation, as well as some additional services and benefits at the airport. If the airline did not inform you of the flight cancellation 14 days or more prior to take off, according to the EU Passenger Rights Regulation, you are due between €250 - €600 refunds for the inconvenience.
What are my rights in the event of a flight cancellation?
You could either get your ticket refunded or get a replacement flight
You can get compensation if the airline informed you 14 days or less before the flight was scheduled to depart
The compensation amount is between €250 and €600
Additional services become available from 2 hours waiting time in the airport
The European Regulation also applies to tourist packages and package tours
What should I do if my flight is cancelled?
Make use of the complimentary food and drinks at the airport
Get the airline to confirm the cause of the cancellation in writing
Collect proof, such as receipts of expenses, vouchers and alternative tickets
Determine your compensation with our online calculator
Consult our experts to help you get compensation for your cancelled flight
What compensation can I get for a cancelled flight?
The EU Passenger Rights Regulation entitles you to a full reimbursement of the ticket price, or alternative transportation. If you were informed of the flight cancellation less than 14 days prior to departure, you are entitled to a compensatory claim of between €250 and €600 per person, depending on the replacement flight distance and schedule. If your flight is brought forward, this is considered to be the same as a cancellation and as such you are entitled to claim a compensation. In general, the earlier the airline alerts you to your rearranged flight times, the more likely it is that the new schedule differs from the original flight without the airline having an obligation to compensate you. The price you paid for your ticket bares no relevance to your claims and passengers who travelled on package holidays are also able to claim.
The table below summarises the different situations envisaged by the European Regulation:
| Notification prior to departure | Alternative flight lands at the destination | Right to compensation |
| --- | --- | --- |
| more than 14 days before | irrelevant | |
| 7 -14 days before | no more than 2 hours earlier/4 hours later | |
| 7 -14 days before | more than 2 hours earlier/4 hours later | |
| less than 7 days before | no more than 1 hour earlier/2 hours later | |
| less than 7 days before | more than 1 hour earlier/2 hours later | |
| Less than 14 days before | No alternative flight proposed | |
If your flight qualifies based on the above notification periods, you have the right to compensation if the following conditions are also met:
The airline was responsible for the cancellation
You checked in for your flight on time
Your flight was due to depart within the EU or land in the EU and your airline also has its headquarters in the EU
You encountered these problems on a flight operated in the last 6 six years
Provided the above conditions are met, you'll be eligible to the following compensation:
Short distances - Less than 1500km - Passengers are entitled to €250 compensation
Medium distances - Between 1500km and 3500km - Passengers are entitled to €400 compensation
Long distances - More than 3500km - Passengers are entitled to €600 compensation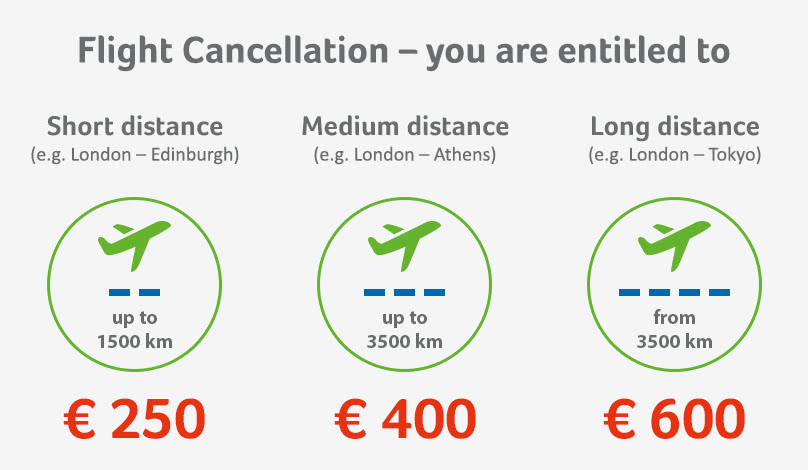 Cancellations: Ticket refund or replacement flight?
In theory, airlines are required to inform you of a cancelled flight as quickly as possible and must also offer you a replacement flight. However, these measures sometimes work in favour of the airlines, since they may alleviate them from paying compensation. That's why they need to be closely watched, even if you decide not to travel to your final destination.
What am I eligible for when my flight is cancelled?
The airline was responsible for the cancellation
You checked in for your flight on time
Your flight was due to depart within the EU or land in the EU and your airline also has its headquarters in the EU
You encountered these problems on a flight operated in the last 6 six years
Important:
you can claim up to €600 in compensation, even if you have already been reimbursed for the price of your ticket. If the airport provides you with vouchers, this doesn't alleviate their responsibility to issue your compensation.
Our advice: find out about replacement flights
Before accepting an offer from the airline for alternative transportation, be sure to check the prices of alternative flights on that day. If the tickets for a substitute flight are cheaper than the original tickets, you would be best served to buy them yourself and then have the airline refund you for the original tickets. Thus, depending on the circumstances, it may be wiser to request a refund of the initial ticket from the airline and book a new one yourself.
It is always the best practice to keep the airline informed of whatever actions you decide to take. Let them know your intention to purchase a new ticket while you ask for a refund for the original one. Be sure to receive written confirmation that your new booking is independent of the cancellation of the original ticket. In this way, there should be no problem with the subsequent claim for reimbursement.
Flight cancellation as a business traveller?
If you suffered a flight cancellation while travelling on business you'll be the one who receives the compensation, not your employer. Likewise, if you're travelling as a state official, the EU regulation states that you'll be the one owed compensation from the airline. It is the individual passenger who endured the inconvenience of the delay who receives the benefit - not the person who paid for the ticket. This stands no matter the ticket price.
How do I apply for compensation if my flight is cancelled?
It is usually difficult for those who come from a non-legal background to determine whether or not they are eligible for compensation following the cancellation of their flight. This is where Flightright is able to assist you. As an expert in European air passenger law, we are able to verify the applicability of the European Regulation to your situation and to claim compensation on your behalf, even when faced with a lack of cooperation from the airline. Thanks to our free compensation calculator, you can easily verify that your case falls within the scope of the European Regulation. Simply enter your flight details and you will know the amount of your potential compensation. Already used by more than 5.2 million passengers, our claim check calculator is the first step towards ascertaining the compensation you're owed.
Check your claim in 2 minutes
Should the claim check indicate that you are entitled to compensation for your cancelled flight, you can instruct us to start filing your claim straight away. We offer passengers the best chance of being compensated and receiving the amount provided for in the EU Regulation. By entrusting your case to us, you are partnering with a committed, knowledgeable and proactive partner: we offer passengers the best chance of being compensated and receiving the settlement amount. Often ignored by the airlines, we have been assisting air passengers for many years and representing our customers' interests on a level playing field. We'll make sure that you get the compensation you're entitled to, even if that means going to court. We currently have a 99% enforcement success rate.
What makes it so difficult for me to assert my rights myself?
On a regular basis, airlines do not follow up on passengers' complaints or opt to respond to them through standardised letters asking them to wait for a prolonged period of time. Another practice with some airlines is to offer discount coupons, which are often much lower in value than the owed compensation, claiming that this is what their passengers are entitled to. In reality, European rules on air passenger rights are not well known, and airlines do not always inform passengers of their rights. Without sound legal knowledge, passengers are often lost and do not know how or to whom to turn for help with claiming compensation.
This is something that Flightright refuses to accept. Thanks to our experience and expertise at the European level, we know the subtleties and pitfalls to avoid in this matter, which makes us able to assist you in obtaining compensation for your flight cancellation. We send a compensation claim on your behalf to the airline. If necessary, we bring the case to justice. If we are unable to enforce your rights, we will bear all costs. We only receive our success commission, 25% + VAT, if we win and are able to get you compensated. Take advantage of our many years of experience in Europe and our knowledge of air passenger rights to help you claim your compensation.

Additional entitlement to food, refreshments and other benefits
If you've experienced a lengthy waiting time at departure you're entitled to more than your potential compensation, regardless of whether the airline is responsible for the delay or not. Among other thing, the airline is required to provide its passengers with food and refreshments. The passengers are also entitled to 2 free phone calls or emails. These benefits must be offered regardless of the circumstances surrounding the cancellation - regardless of whether it's a technical fault, bad weather or strike action. The additional services apply regardless of whether the airline was responsible for the cancellation.
Short distance - Under 1500km: delayed over 2 hours - free drinks and food, and 2 phone calls, emails or faxes
Medium distance - between 1500 and 3500km: delayed over 3 hours - free drinks and food, and 2 phone calls, emails or faxes
Long-haul - Over 3500km: delayed over 4 hours - free drinks and food, and 2 phone calls, emails or faxes
What are "extraordinary circumstances" in cases of flight cancellation?
Airlines are not responsible for all flight schedule changes and cancellations. In the case of "extraordinary circumstances", they are released from their obligation to compensate their passengers. They are factors beyond the airline's responsibilities or control. These circumstances include:
Unavoidable security risks
Political instability
Airport and airspace closures
Adverse weather conditions
Birds flying into the engine
Strikes
An exception is made if the airline could have prevented the problem. An example would be if the airline cited bad weather conditions, and what actually happened was the airline failed to ensure that there were sufficient supplies of de-icer before the onset of winter. In this case they may be deemed responsible for the delay - especially if flights operated by other airlines were able to depart on time.This is not something that passengers can often easily prove, though. Our experts carry out an accurate assessment by accessing specialized databases containing meteorological information on hundreds of thousands of flights. This data allows us to provide the necessary evidence to establish an airline's liability for cancelled or delayed flights.
Checklist: This is what you are entitled to if your flight is cancelled
You can either be reimbursed for the price of your ticket or get the airline to offer you an alternative connection as soon as possible
You may be entitled to compensation if you found out about the cancellation less than 14 days before departure
The compensation ranges from €250 to €600 per person
If you don't find out about the flight cancellation until you are at the airport, then you are also entitled to refreshments and snacks
You can claim compensation even if you have travelled with a tour package or reduced fare open to the public
Extraordinary circumstances like strikes or bad weather release the airlines from their obligation to pay compensation
Check your claim in 2 minutes
Share this article with friends