Check your claim in 2 minutes
Flybe flight delays and cancellations
Flybe is Europe's largest regional airline, and it operates the most domestic flights within the UK. This low-cost airline hits 62 destinations across the continent and in 2016 was one of the least delayed airlines, perhaps due to the fact that it flies to predominantly smaller airports. This airline is nevertheless subject to a large amount of cancellations. It also suffers from some long delays, like all airlines.
A Flybe compensation is appilcable for flight delays for more than 3 hours according to EU 261 rule. Passengers can claim compensation up to €600 for delayed flight caused by the airline.
We help you to enforce your rights by putting you and Flybe on a level playing field. With our straightforward online calculator you can check if you're eligible for compensation for free, and directly submit your claim online.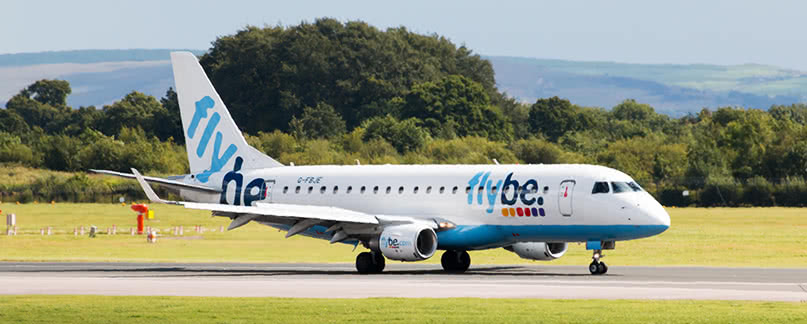 Your rights when delayed with Flybe
Up to €600 compensation according to EU law
Regardless of the ticket price
When the flight was delayed at least 3 hours, cancelled or overbooked
Claim on flights up to 6 years old
Tips and Tricks when delayed with Flybe
Contact the airline to establish what caused the delay
Insist on your basic services and benefits at the airport
Collect proof: photos, vouchers, receipts of expenses etc
Exchange contact details with other affected passengers
A more detailed breakdown of your passenger rights and the EU regulation
In which case is your flight delay eligible for compensation?
The total compensation that you'll be due hinges on the distance of the flight - not on the amount you paid for your ticket. If your flight arrives at its destination with a delay of at least 3 hours, and falls under the current EU Regulation, you will be eligible to claim. Your compensation is retrospectively valid up to 6 years. Below is a table which explains which compensation you'll be entitled to: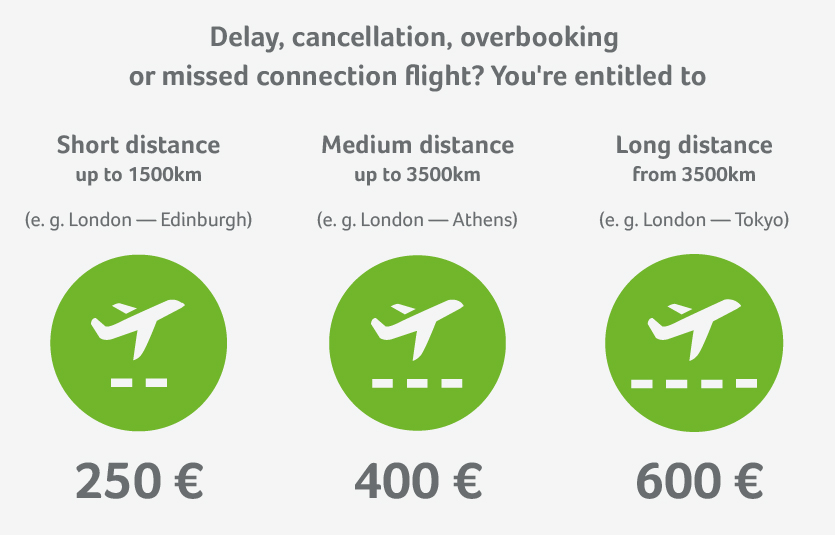 Important:
Don't listen to any excuses! Vouchers for food or hotels or drinks don't relieve the airline's responsibility to issue you your compensation.
Flybe: Additional services at the airport
If you suffer a lengthy delay, you have the right to basic benefits and services. The distance of the flight and the amount of time delayed will dictate your eligibility. Here, you'll find an overview what you're entitled to:
Short distance, below 1500 km:

2 or more hours waiting time - free drinks, food and 2 emails, phone calls, or faxes

Medium distance, between 1500-3500 km:

3 or more hours waiting time - free drinks, food and 2 emails, phone calls or faxes

Long-haul, from 3500 km

: 4 or more hours waiting time - free drinks, food and 2 emails, phone calls, or faxes
More than 5 hours of delay
If you're unlucky enough to have a flight delayed for over 5 hours, you have the right to cancel it. The airline is obliged to either organise alternative transportation or reimburse you the cost of the ticket.
Departure not until the next day
In this instance you are eligible for a stay in a hotel and transport to and from the hotel and airport. Get in touch with the airline directly and ask them to commit to this in writing.
Our Flightright promise
Thanks to our expertise, we enforce compensation with a very high success rate. This is what enables us to promise a completely free service if your case should prove unsuccessful!
Check your claim in 2 minutes
Share this article with friends