Check your claim in 2 minutes
Loganair flight delays and cancellations
Loganair, since her independence from Flybe, franchise in 2017, has served people by overseeing flights between 28 inbound and outbound destinations from the UK, The Republic of Ireland, and Norway. This airline has had more flights cancelled than it has had delayed, about four times more.
Are you subjected to delays or cancellations with Loganair? As an authority in this field, we can help you get your compensation. We stand for you and get the troubles done for you, so that you can enjoy compensation. You can quickly check our online calculator for your eligibility and to submit your claim with us, for free.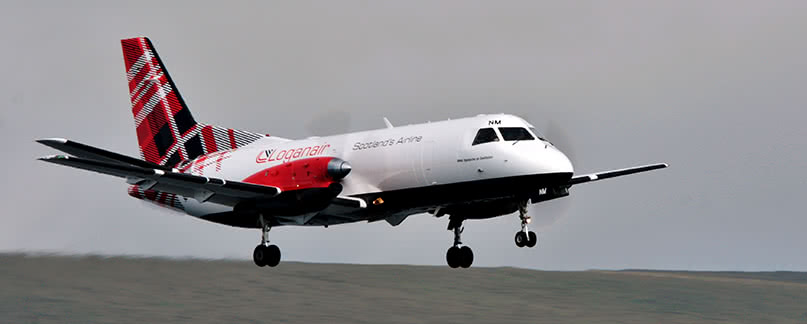 Your rights when delayed with Loganair
Under EU law up to €600 compensation
Regardless of the cost of the ticket
Flights as far back as 6 years
If the flight was delayed at least 3 hours, overbooked or cancelled
Tips and Tricks when delayed with Loganair
Contact the airline to confirm the reason for the delay
Collect proof: receipts, photos, vouchers etc
Insist on your basic rights and benefits at the airport
Exchange contact details with other travellers
For more in depth information regarding your passenger rights and the EU regulation
Under what conditions is your flight delay with Loganair eligible for compensation?
Based on the 2004 EU261 ruling, the amount of compensation is dependent on the distance of the flight - not on the amount you paid for your ticket. Fundamentally, your flight or replacement transportation has to arrive at its destination with a delay of at least 3 hours.
Additionally, the flight must either take off or land in the European Union. In the latter case, the airline must also have its headquarters in the EU. Your claims are valid up to 6 years, retrospectively. It does not matter whether you took the flight as a business traveler or as part of a package holiday; the person who suffered the inconvenience of the flight disturbance is the one who is eligible to receive the compensation. Don't take any excuses! Vouchers for food or hotels do not negate the airline's responsibility to pay your compensation. The airline must be responsible for the flight's disturbance. Extraordinary circumstances like a strike or bad weather relieve the airline of its responsibility.
When are you entitled to a Loganair delayed flight compensation?
Here is an overview of which compensation you'll be entitled to, based on the circumstances of your delay:
Short distance flight delays - Below 1500km - Passengers are due €250 compensation from Loganair.
Medium distance flight delays - Between 1500km and 3500km - Passengers are due €400 Loganair compensation.
Long distance flight delays - Over 3500km - Passengers are due €600 Loganair compensation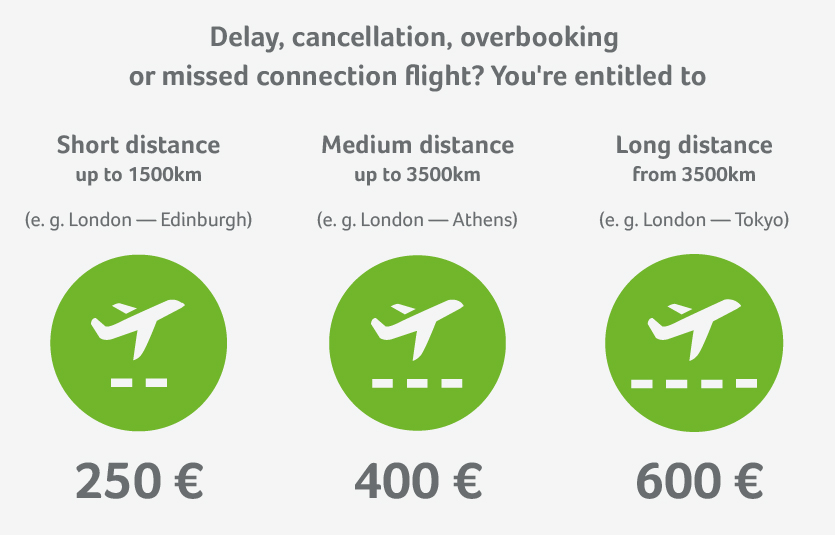 How to claim Loganair flight delay and cancellation compensation
First off, you have to check, understand, and confirm that you have fulfilled all requirements due to make you eligible to claim your compensation from Loganair, according to the European Union Regulation. As happy as one can be to claim the compensation benefits, it is often not a simple process, as it requires getting access to flight databases, comparison of similar scenarios, and validating your claims under the European Regulation No. 261/2004 etc. The truth is, for an individual without a legal orientation in this regard or access to the required technologies, this can be a very intimidating venture.
Having an understanding of how this works, Flightright offers you an easier alternative, which is to let us get into the logistics for you why you enjoy your rightful benefits. All you need to do is to enter your flight details into our free, online compensation calculator, to validate that you're deserve the claims against the airline. The process of validation takes a short minute. Once on track, you get an assessment and we work the process of helping you get compensated. With more than 5.2 million customers, we boast of quality service and guaranty a successful recovery. By choosing us, you are opting for the support of a partner that has been successfully asserting air passenger rights for over 8 years.
Check your claim in 2 minutes
Loganair Additional services at the airport
If your departure is heavily delayed, you are given the basic benefits. The eligibility rights vary according to the distance of your flight and the duration of the delay encountered. The benefits are listed below.
Short distance: from 2 hours waiting time - free drinks, free food and 2 telephone calls, emails or faxes
Medium distance: from 3 hours waiting time - free drinks, free food and 2 telephone calls, emails or faxes
Long-haul: from 4 hours waiting time - free drinks, free food and 2 telephone calls, emails or faxes
Delays of more than 5 hours
In this instance, you can, regardless of the distance, withdraw from your flight. The airline is obliged to either reimburse you or offer you alternative transportation to your destination.
Departure delayed until the next day
You're eligible for a stay in a hotel, including transport to and from the airport. Contact the airline directly and ask for confirmation of your hotel room and transfers to be provided in writing.
Your flight didn't take off yet?
You can simply enter your flight details for your future flight and we will let you know whether you're eligible for compensation. Enter your flight here:
Check your claim in 2 minutes
Share this article with friends