Check your claim in 2 minutes
London City Airport flight delays and cancellations
London City Airport, predominantly used by London's financial industry, operated the 9th most outbound flights from the UK in 2016. 52 destination airports can be reached from City Airport across Europe, as well as New York. This airport suffered a fairly average number of delays in 2016, but its ratio of cancellations was one of the worst in the UK.
No matter which airline you were subjected to disruption with when flying from London City Airport, we'll strive to uphold your right to compensation. By using our free online calculator you can check in a straightforward manner if you're eligible for compensation.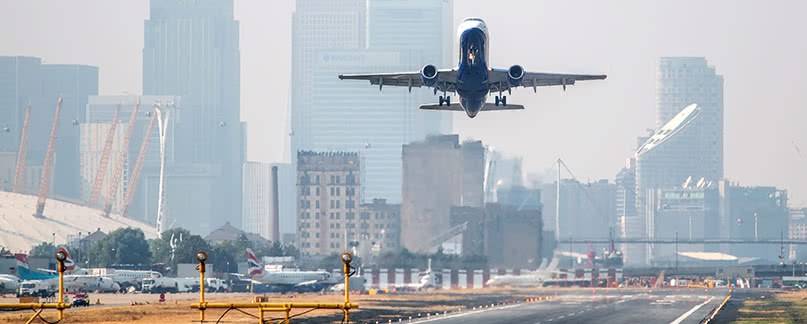 Your rights when delayed at London City Airport
According to EU legislation up to €600 compensation
When the flight was postponed at least 3 hours, cancelled or overbooked
Claims are not determined by ticket price
Flights dating back as far as 6 years
Tips and Tricks when delayed at London City Airport
Gather evidence: screenshots/photos, vouchers, proof of expenditure etc
Establish the reason for the delay with the airline
Claim your basic services and benefits at the airport
Speak with fellow passengers and exchange contact details with them at the airport
Under which circumstances do flight delays qualify for compensation?
The total amount of compensation rests on the distance of your flight - not the amount you spent on your ticket. Fundamentally, if your delayed flight landed 3 or more hours after the scheduled time and the circumstances are in line with the the current EU Regulation, you will have a claim. Your claims remain valid as far back as 6 years retrospectively. Here is some insight into when you'll qualify for compensation, and how much you could claim: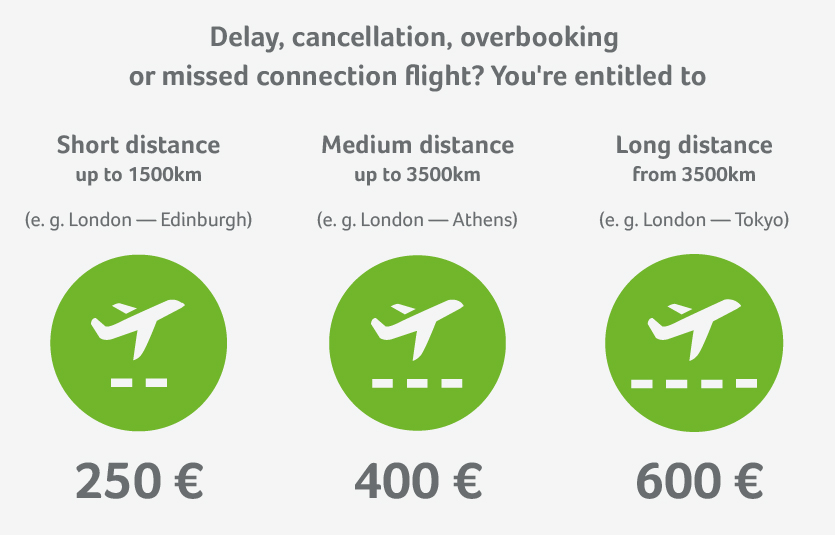 Extra services at London City Airport
If your flight departure is delayed heavily, you incur the rights to basic benefits and services. The availability of these amenities depends on the length of the delay and the distance of your flight . Please see an overview of what you'll be eligible for, and when you'll be eligible for it:
Short distance, below 1500 km: 2 or more hours of delay - free food and drinks, as well as 2 phone calls, emails or faxes
Medium distance, between 1500-3500 km: 3 or more hours of delay - free food and drinks, as well as 2 phone calls, emails or faxes
Long-haul, from 3500 km: 4 or more hours of delay - free food and drinks, as well as 2 phone calls, emails or faxes
More than 5 hours of delay
When the delay reaches 5 hours or more, you're within your rights to cancel your flight. The airline is obligated to either reimburse you the costs or offer you an alternative means of transportation.
Takeoff postponed until the following day
Delays that continue into the following day entitle you to a stay in a hotel and transfer to and from the hotel and airport, at the offending airline's expense. Contact the airline directly and ask them to confirm this in writing.
Important information:
Don't take the airline's excuses! Vouchers for hotels, food or drinks don't alleviate the airline's obligation to pay your compensation.
Our Promise
Our expertise enables us to enforce compensation at a highly successful rate. This is what gives us the necessary confidence to promise a completely free service should your case be unsuccessful!
Check your claim in 2 minutes
Share this article with friends