Check your claim in 2 minutes
EasyJet flight delays and cancellations
EasyJet currently oversees more outbound flights from the UK than any other airline in Europe. It operates between 133 destination airports across the continent. However, it is far from being the most punctual airline, and as a result delays and cancellations occur.
We help you to enforce your rights and level the playing field between you and easyJet. Use our simple, fast and free online calculator to check your eligibility for compensation if you have been affected by flight disruptions with this airline.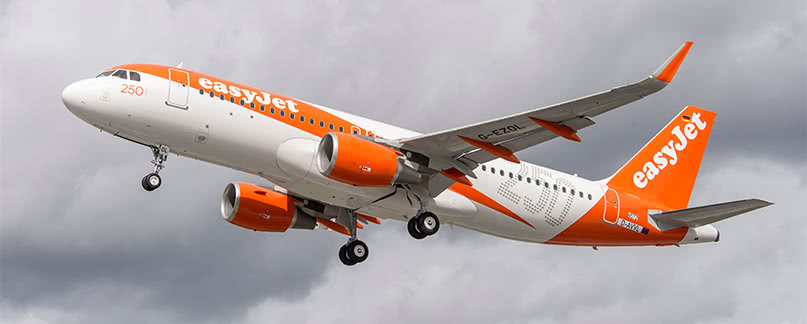 Your rights when delayed with EasyJet
According to EU law up to €600 compensation
Regardless of the ticket price
Flights up to 6 years old
When the flight was delayed at least 3 hours, cancelled or overbooked
Tips and Tricks when delayed with EasyJet
Confirm the reason for the delay with the airline
Collect proof: photos, receipts of expenses, vouchers etc
Insist on your basic benefits and services at the airport
Exchange contact information with other passengers
More detailed information regarding your passenger rights and the eu-regulation.
Under what conditions is your flight delay eligible for compensation?
The amount of compensation is dependant on the distance of the flight - not on the amount you paid for your ticket. Fundamentally your flight has to arrive at its destination with a delay of at least 3 hours and be applicable under current eu-regulation. Your claims are valid up to 6 years retrospectively. Here is an overview of which compensation you'll be entitled to, based on the circumstances of your delay: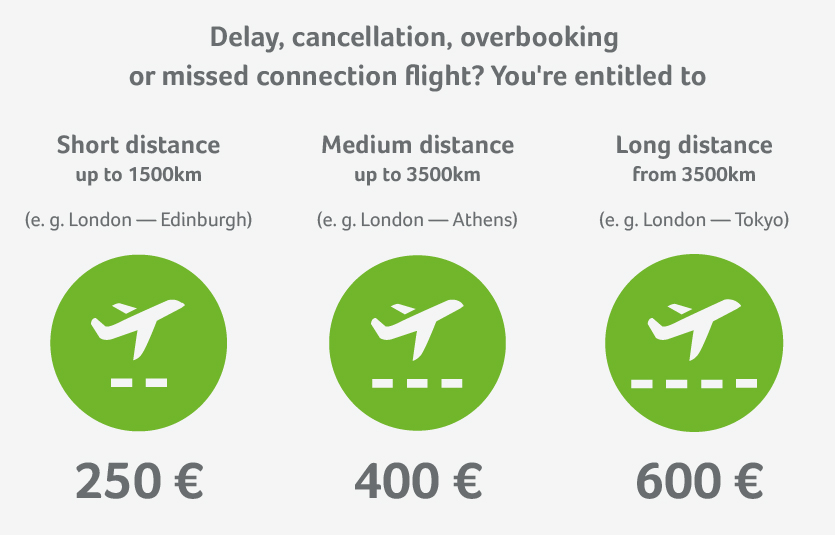 EasyJet - Additional services at the airport
If your departure is heavily delayed, you immediately have the right to basic benefits and services. These rights vary depending on the distance of your flight. Below, you'll find an overview of what you're eligible for:
Short distance, below 1500 km:

from 2 hours waiting time - free drinks, free food and 2 telephone calls, emails or faxes

Medium distance, between 1500-3500 km:

from 3 hours waiting time - free drinks, free food and 2 telephone calls, emails or faxes

Long-haul, from 3500 km

: from 4 hours waiting time - free drinks, free food and 2 telephone calls, emails or faxes
Delays of more than 5 hours
In this instance you can, regardless of the distance, withdraw from your flight. The airline is obliged to either reimburse you or offer you alternative transportation to your destination.
Departure delayed until the next day
In this case, you're eligible for a stay in a hotel, including transport to and from the airport. Contact the airline directly and ask for confirmation of your hotel room and transfers to be provided in writing.
Important:
Don't take any excuses! Vouchers for food or hotels don't negate the airline's responsibility to pay your compensation.
Our Promise
Thanks to our expertise, we enforce compensation with a very high success rate. That's why we are able to promise a completely free service if your case is unsuccessful!
Check your claim in 2 minutes
Share this article with friends