Check your claim in 2 minutes
Thomas Cook Airlines flight delays and cancellations
Thomas Cook Airlines is a British airline based in Manchester, founded in March 2003. This airline flies to 72 destinations worldwide using a fleet of 34 aircraft. Thomas Cook Airlines is one of many subsidiary European airlines that make up the Thomas Cook Group. 2016 was an impressively punctual year for Thomas Cook Airlines flights out of the UK. Nevertheless, delays and cancellations did still occur.
If you've been subjected to flight disruption with Thomas Cook Airlines, we will help to enforce your right to compensation. You can check your eligibility, for free, with our straightforward online calculator.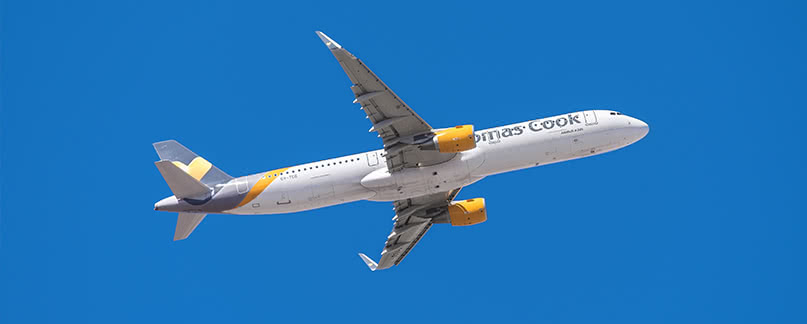 Your rights when delayed with Thomas Cook Airlines
Based on EU law you can claim up to €600 compensation
Claim on flights as far back as 6 years
Ticket price not a factor
When the flight was delayed 3 or more hours, overbooked or cancelled outright
Tips and Tricks when delayed with Thomas Cook Airlines
Confirm the reason for the delay with the airline
Collect relevant documents: screenshots/photos, proof of expenses, vouchers etc
Make sure you claim the basic benefits and services available at the airport
Exchange contact details with other disrupted passengers
When does a delayed flight qualify you for compensation?
The amount of compensation you'll be eligible for is dictated by the distance of the flight - the amount you paid for your ticket is not a factor. Essentially your flight must land at its destination with a delay of 3 hours or more and apply under current EU Regulation. Your claims are valid up to 6 years retrospectively. Here is an overview of which compensation you'll be entitled to, based on the circumstances of your delay: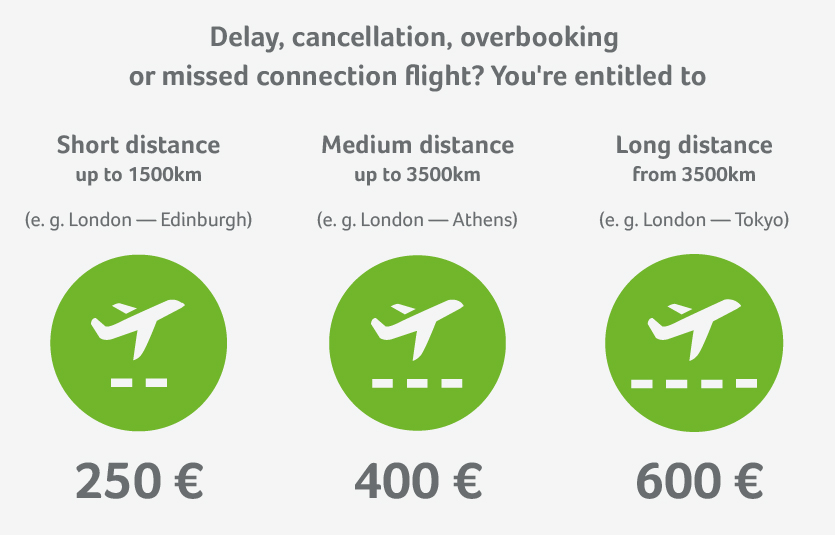 Thomas Cook Airlines: Additional services at the airport
If your departure ends up being heavily delayed, you're entitled to some additional services at the airport. These rights become available depending on the distance of your flight. Below, you'll find a breakdown of what you're eligible for and when you become eligible for it:
Short distance, less than 1500 km:

2-3 hours delayed departure - complimentary food and drinks and 2 emails, phone calls or faxes

Medium distance, between 1500-3500 km:

3-4 hours delayed departure - complimentary food and drinks and 2 emails, phone calls or faxes

Long-haul, from 3500 km:

after 4 hours waiting time - complimentary food and drinks and 2 emails, phone calls or faxes
Departure delayed over 5 hours
If your departure is delayed for longer than 5 hours, you have the option to cancel your flight. The airline is then obliged to either reimburse you or offer you an alternative transportation method.
Departure delayed until the following day
If the airline postpones your departure until the following day, they must put you up in a hotel for the night and cover the cost of getting you to the hotel and back to the airport. Contact the airline directly and ask for confirmation of your hotel room and transfers to be provided in writing.
Important:
Don't take any excuses from Thomas Cook Airlines! Vouchers for food, drinks or hotels don't absolve their responsibility to issue compensation for disruptions.
The Flightright Guarantee
Thanks to our superior knowledge in this sector, we enforce compensation claims against airlines with very high success rates. This allows us to guarantee a completely free service if your case is unsuccessful!
Check your claim in 2 minutes
Share this article with friends