Check your claim in 2 minutes
Wizz Air flight delays and cancellations
Wizz Air is a Hungarian airline with its main base located in Budapest. It reaches 144 destinations across Europe, Israel and the UAE. While they seldom cancel their flights, Wizz Air do suffer from some long delays.
We help you to enforce your rights and level the playing field between you and Wizz Air. Our simple compensation calculator enables you to check if you're eligible for compensation for free and directly enter your claim online.
Your rights when delayed with Wizz Air
According to EU law up to €600 compensation
Not based on ticket price
When the flight was delayed over 3 hours, overbooked or cancelled outright
Flights dating back 6 years
Tips and Tricks when delayed with Wizz Air
Get the reasons for delay from the airline
Collect proof: pictures, vouchers, receipts of expenses etc
Ask for your basic benefits and services at the airport
Talk to your fellow passengers and exchange contact details
Under which circumstances is your flight delay eligible for compensation?
The total compensation paid out is determined by the distance of your flight - not on the price of your ticket. Fundamentally if the delay goes over 3 hours, and falls under the current EU regulation, you'll be able to make a claim. Claims are valid up to 6 years retrospectively. Please see some information about potential claims: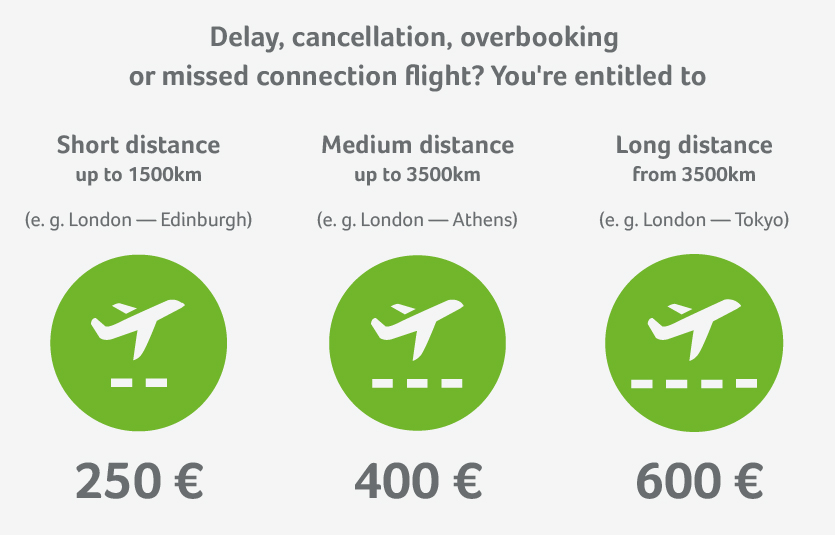 Wizz Air: Additional services at the airport
You have the right to some benefits in cases of long delay. These vary depending on the distance of your flight and the length of the delay. Here, you'll find an overview of what you're eligible for:
Short distance, below 1500 km:

from 2 hours delay - free drinks, food and 2 emails, telephone calls or faxes

Medium distance, between 1500-3500 km:

from 3 hours delay - free drinks, food and 2 emails, telephone calls or faxes

Long-haul, from 3500 km:

from 4 hours delay - free drinks, food and 2 emails, telephone calls or faxes
Delays of 5 hours or more
When the delay goes over five hours, you have the right to cancel your flight. The airline is obliged to either reimburse you for the costs or find you an alternative transportation method.
Flight postponed until the following day
When the delay carries on into the following day the airline must find you hotel accommodation and cover the costs of getting there and back to the airport. Contact the airline directly and ask them to confirm this in writing.
Important:
Don't allow any excuses! Vouchers for food or hotels don't nullify the airline's responsibility to pay the compensation you're due.
Flightright's promise
Thanks to our expertise, we enforce compensation with a very high rate of success. That's why we are comfortable promising a completely free service if your case should be unsuccessful!
Check your claim in 2 minutes
Share this article with friends